The people who I met in Nagoya #39
Eric from USA
Eric comes from Oregon, North-West of USA where he works as a baker. It is his first visit to Japan and the first real travel he is doing. He has been to Mexico to see his family before but he doesn't consider it as a trip. I think it is very bold of him to travel like he is doing – alone, without a specific route, ready to sleep under the stars without a tent like a true backpacker.
After spending a couple of days in Nagoya, he intends to go to Kyoto.
Eric likes the fact Japanese fashion is very diverse, it's rare to find two people wearing the same clothes he told me. He also thinks that Japanese women are prettier than American women.
Eric is a cool person, I think his trip to Japan will give him a desire to visit other countries.
I told him about Osu Kannon market and Akamon-Dori as he is a fan of Mangas. He immediately asked me the direction of Osu Kannon and went there!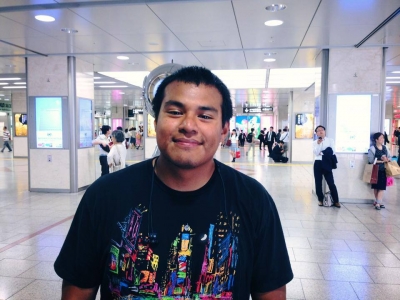 ESOT 旅人の英会話 facebookページ
もぜひご覧ください!
https://www.facebook.com/esotjp