The people who I met in Nagoya #49
Dario from Portugal
Dario is from Lisbon, the capital city of Portugal. He came to Japan for studies and he is going to stay one year here. He came to Nagoya to meet a Portuguese friend who is also studying in Japan. It is his first time in Japan but he was eager to come here. For many years, he has been learning Japanese, actually he is a huge fan of the country! He has visited Tokyo, Osaka, Kyoto, Nagoya, Nara, Kobe and other little cities. He thinks each city has its own atmosphere and charm. People are really kind and polite, the country is really safe and everything is clean. The structures are also really organized and well prepared.
Dario has visited a few countries in Europe but he told me Japan was his aim. He fell in love with Japan after hearing about Japan from friends who had visited the country. Then he read many books about the country and nowadays he plans to work here. He likes Portugal too but the Japanese way of living is better for him even if the work seems to be harder. There are not a lot of Japanese tourists in Portugal he told me. This is unfortunate for him as he would have liked to have exchanges with them before he came to Japan.
Sometimes, the country where you are born is not necessarily the best place for you to live. You have to travel and find this place. I think Dario has found his and I'm really glad for him. He is a nice person and I hope his dream will become a reality.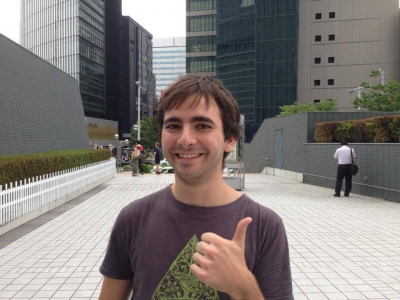 ESOT 旅人の英会話 facebookページ
もぜひご覧ください!
https://www.facebook.com/esotjp