The people who I met in Nagoya #53
Maria from Russia
Maria is from St. Petersburg, Russia. She works as a translator, and she speaks Japanese, Russian and English. This is her fourth trip to Japan. The first three were for visiting the country, but this time it is a business trip.
Maria's favorite food is onigiri. I've eaten an onigiri once, but it was very spicy so I haven't eaten one since. She loves karaoke. When I told her I've never been to karaoke she replied "You really should try, it is not important if you sing well or not, it is just a way to externalize yourself."
Maria has visited a lot of cities in Japan including Tokyo, Osaka, Nagoya, Okinawa (Naha) and Kobe. Kobe is her favorite one, such a quiet city with beautiful gardens she told me. Also, she has travelled to France, Germany, Poland, Netherlands and South Korea. She confessed to me that she prefers South Korea to Japan because of the atmosphere there which is softer. But she prefers Japanese food.
Maria's advice to Japanese people who plan a trip to Russia is to be careful with the difference of culture. For example, the profession of a tourist guide – it is not the same in Japan and Russia. She told me that sometimes some Russian guides are hurt by the behaviour of Japanese tourists.
It was interesting to speak with Maria but she seemed a bit tired so we didn't talk for a long time. She is a kind person and I hope her business trip in Japan will go well.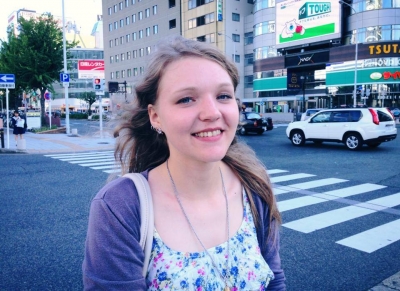 ESOT 旅人の英会話 facebookページ
もぜひご覧ください!
https://www.facebook.com/esotjp