The people who I met in Nagoya #52
Alice & Holly from United Kingdom
Alice and Holly are both university students majoring in Accounting and Finance. They arrived last Tuesday and it is their first time in Japan. They are planning to next go to Tokyo by shinkansen in order to visit the city and see their friends.
They think Japan is very different from the UK. Japanese people are very polite and they respect themselves and foreigners. The train system is very efficient and fast, moving to another city is easier in this country and everything is clean. Nevertheless, they are disappointed about some points – the food is different so they have to get used to it. Also the time difference between the two countries is causing them some problems. And last of all, the language barrier is strong. It is hard for them to communicate because they just know one word in Japanese "arigato" (thank you).
About travel, Alice has visited a good part of Europe, USA, Canada, China, Thailand, Canary Islands. Holly hasn't travelled as far as Alice but she has been to Egypt, an interesting country in my mind.
Alice and Holly were very kind, I'm sure they will enjoy their trip to Japan. Japanese people are really helpful, so even if Holly and Alice don't speak Japanese at all, I'm sure it is going to be fine for them. I hope this first trip will make them want to come back.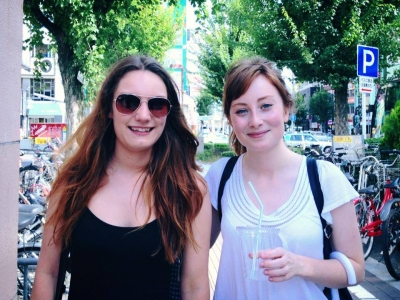 ESOT 旅人の英会話 facebookページ
もぜひご覧ください!
https://www.facebook.com/esotjp