The people who I met in Nagoya #46
Mark from Switzerland
I met Mark for the second time as he used to live in my guesthouse for a few days but unfortunately he left before I had the chance to interview him. So it was a good surprise for me today. We had enough time to talk and to eat lunch together before he left for Kyoto, where he really wants to visit before he leaves the country.
He works as a Project Manager in a carpentry business in Berne, the capital of Switzerland. He had a break and came to Japan for sightseeing. He has been to a huge part of the country with the Japan Rail Pass, which I guess is the best way to move in the country for foreigners who want to see many cities. Mark likes Japanese traditions, food especially sushi, ramen and udon and he thinks Japanese people are very respectful and polite.
"If you come to Switzerland, you must taste fondue and go and see mountains." He also recommends going skiing in Switzerland's ski resorts. It was a pleasure to meet Mark again. I spent a good moment and I hope he will love Kyoto, I'm sure he will! I wish him a good trip.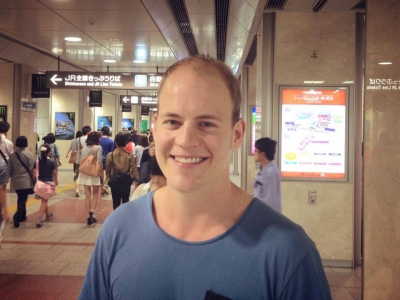 ESOT 旅人の英会話 facebookページ
もぜひご覧ください!
https://www.facebook.com/esotjp