Meeting 100 foreigners in Nagoya, No.92
Petar from Serbia
Petar arrived in Japan a couple of months ago. He is married to a Japanese woman and he has a part-time job here. Also he's studying Japanese and he goes to the International Center every Sunday.
So far Petar likes Japan with what he could see. He told me that the lifestyle is complicated but very organized. Also he said that Japanese people are very polite and kind. Since I told Petar I was from Germany we started to talk a little bit about football. He doesn't know Japanese football that much yet, though Petar told me that Nagoya's new coach is from Serbia and that he just arrived last December.

Petar said that Serbia and Japan are 2 different worlds. His words were "For me it feels like Serbia is on earth, and Japan is in another universe. In Japan everything is scheduled and organized. In Serbia people don't like to have a schedule". But I think he meant that in a good way. Otherwise Petar has traveled a little. He has been to Switzerland, Hungry and Montenegro.

Petar used to learn German. So I was glad to hear him speaking a few words. He was also really happy to speak English with me. Because since he is in Japan he only speaks English with his wife, so it was nice for both of us. Indeed Petar is a really nice person. I had a good time interviewing him.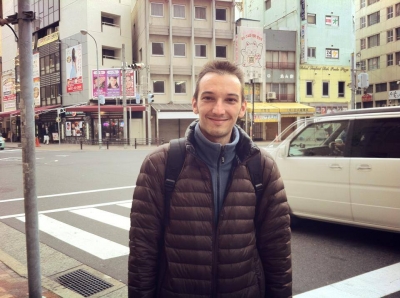 もぜひご覧ください!