Meeting 100 foreigners in Nagoya, No.101
Julian from France
Now that I met 100 foreigners and reached my goal, I thought it would be a good idea to ask myself the same questions I asked to foreigners. In fact I have learned a lot about Japan throughout my stay.
Meeting myself in Japan.

After being here for 2 months and meeting so many people, my point of views about Japan really changed. Not that I didn't like it before. In fact, I love it even more.

Japanese culture is very rich and sometimes difficult to understand. These interviews helped me a lot to learn about the culture. I got accustomed to Japan very fast. Every day was a new discovery and a great experience. The lifestyle in Japan is actually perfect for me. Still now I want to know more about Japan and try more food. I love the country, the people who are always so friendly, and of course the food. As you all may already know, my favorite dish is katsu-don.

My strange experience (and funny) was the naked festival. It was, in fact, the funniest festival I have ever done in my life. I had so much fun that day. It just felt like a big family with all the people taking part around me. People would talk to me like I was Japanese. The naked festival is a crazy thing, but I love it.

I think I have been traveling quite a lot. I've been to Belgium, Holland, Spain, Corsica, Canada, America, Morocco, Austria, Switzerland, Finland, England and of course Japan, Germany and France. But my favorite place of all is definitely Japan. Even though I love America, Germany and Corsica, there is a really special feeling that I have in Japan. That's why I want to come back and live here.

Overall I would say that every Japanese city has a different atmosphere. Still I have a lot more to discover, and I'm looking forward to doing it this summer. I'd like to thank ESOT's staff members and students for the awesome experience and internship. It is by far the best internship in my life and also some of the best moments I have lived.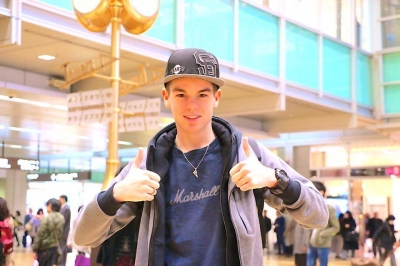 もぜひご覧ください!