The people who I met in Nagoya #55
Johan & Hanneke from Netherlands
Johan and Hanneke live near the Belgium border in Netherlands. Johan is a manager in a gas company and Hanneke works as a social assistant. It is their first time in Japan. They arrived two weeks ago and they are going to stay for two more weeks, visiting and having fun in different cities.
They have already visited many cities – Osaka, Koyasan (they really enjoyed), Hiroshima, Kyoto and Kanazawa. Now, they are going to Takayama to relax for a few days, then Hakone (for Mt Fuji), Tokyo and finally Yokohama. They are trying to visit the most cities they can during their trip which is really exhausting they admitted to me.
They think that Japan is an interesting country, principally because of the culture which is really different to other countries they havevisited, even in Asia. They told me, in Japan, people are amiable and very helpful when they see you have difficulties with something, far more than in Western countries. Plus, a quality they really appreciate in Japanese people is how patient they are, they always find time for you and they take time to accompany you when they can. I totally agree with them.
The food is the only thing with which they are struggling… They told me Japanese food lacks flavor.
Johan and Hanneke are two friendly and warm hearted people. They really love travelling and they find it interesting to learn about new cultures. I'm happy to have met them. I wish them a good trip in Japan!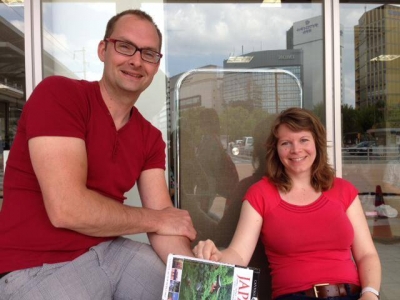 ESOT 旅人の英会話 facebookページ
もぜひご覧ください!
https://www.facebook.com/esotjp